We have popped the answers to some of our most frequently asked questions on to this page for your convenience.
Q: Who are the makers of the packs and what qualifications do they have?
A: CLMER is founded and run by two parents, Laura and Hannah, who home educate their 7 children. You can find out all about them here.
Q: How do I download my digital activity packs?
A: When you have finished the checkout process you will be taken to a page that looks like the screenshot below. You can click the links on the right hand side of the page to immediately download your packs to your device.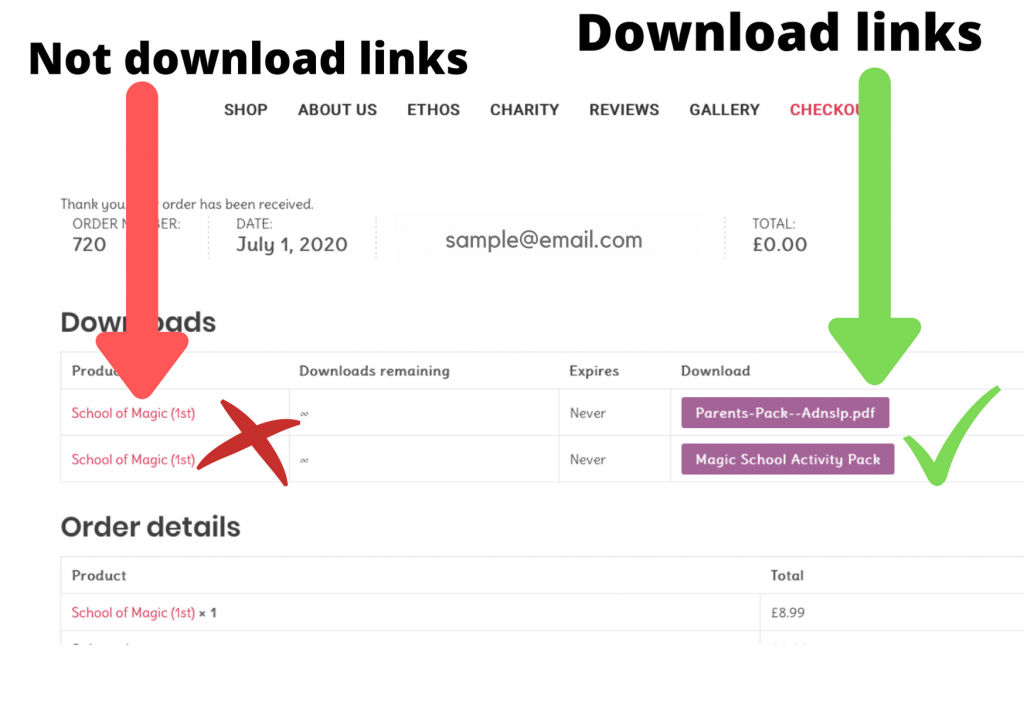 You will also be sent an email with download links (see below), so if you do not wish to download your packs immediately you can do so later by going to that email and clicking the links.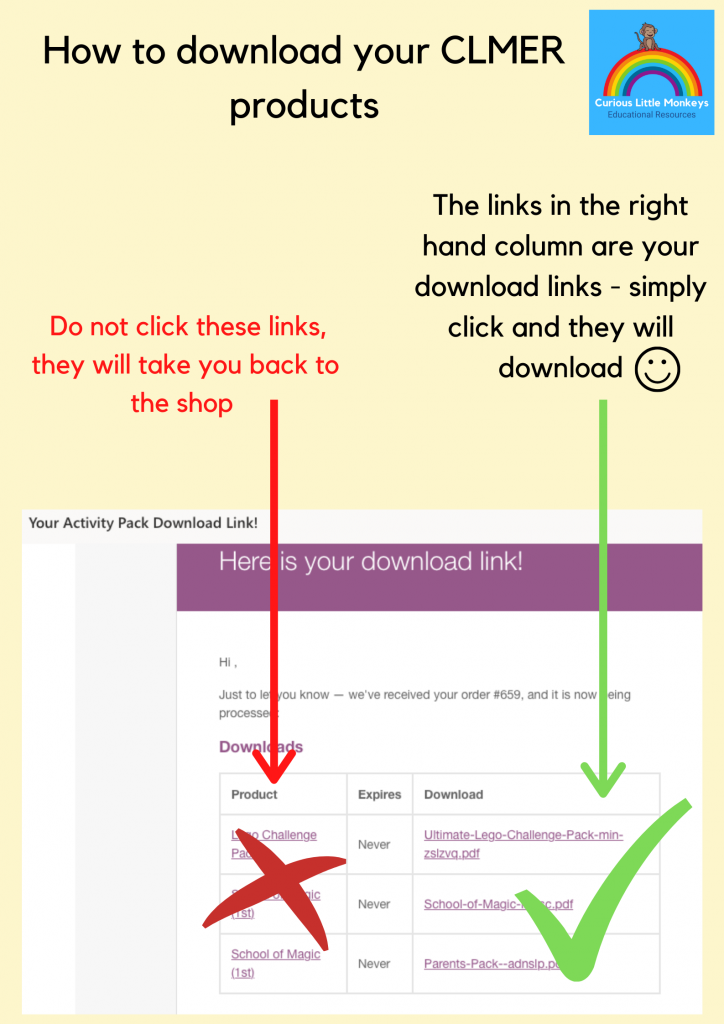 Q: I have not received my email, where are my packs?
A: When you make a purchase of a digital pack, our e-commerce software sends it directly to the email address you entered at checkout. Please ensure that you typed the correct address and check in your junk folder for your packs. Occasionally some email providers will block messages from addresses they don't recognise, and adding our email address curiouslittlemonkeyseducation@gmail.com to your trusted contacts will help to prevent this. If you have checked your mailboxes and still cannot find your pack please email us at the above address or Facebook message us on the Curious Little Monkeys Educational Resources page.
Q: What age are your packs suitable from?
A: This is dependent on the individual child, but founders Laura and Hannah test every pack several times on their own 7 children to assess which ages to recommend our packs for. We generally say that the packs are suitable from age 5 with parent support, and from around 7 for more independent exploration. We believe that children learn at their own pace and that enjoyment of the activities is far more important than getting answers 'right'. If your child has an idea of how to do an activity that is different from what we describe in the pack, go for it! Our ethos is all about child centric education.
Q: I am considering home educating my children, do you have any advice?
A: There is a wealth of resources about home education on Hannah's blog, Adventure Travel Family.
Q: Are these packs for home educated children only?
A: Although Laura and Hannah both home educate their children, these packs are widely used as fun activities for school holidays and weekends; to supplement school learning and even as a way for children to learn if they are resistant to schoolwork. They are also great to give as gifts!
Q: Are these packs suitable for children with additional needs?
A: Although we cannot say for certain that our packs are suitable for every child, we have had great feedback particularly from parents who have children with autism. Because our packs are themed they are great for children who are passionate about one topic (Minecraft, for example). We also use dyslexia friendly font, and we include parent notes to guide parents through each of the packs.
Q: What is your refund policy?
A: We offer refunds on hard copy packs where packs have been purchased by mistake (for example duplicate packs); in these cases we will deduct our postage costs from the refund amount. We do not offer refunds on our digital items. If you feel that you would like a refund on a hard copy pack please get in touch so we can try and resolve the issue; we have thousands of very happy customers and we like to keep it this way!
Q: What is your delivery information?
A: Our products are posted free of charge with Royal Mail. We cannot be held responsible for postage delays.